WANT TO HIRE TONY FRANKLIN TO PLAY ON YOUR MUSIC?
The internet has opened up a whole new world of opportunities to collaborate and record.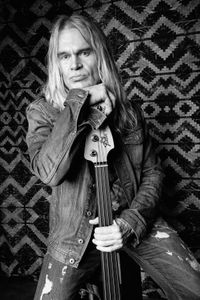 Probably 75% of my recording sessions are done from my home studio. Since the early 2000's I've played on hundreds of recording sessions from all over the world, with a 100% satisfaction rate!
Here's how it works.
You send me WAV files of the music (ideally separate stereo stems of the main instruments - drums, guitars, keys, vocals etc).
 
I record a bass track based on your suggestions, combined with my own instincts and experience. I usually play my Fender fretless 4 string, but can also use fretted bass, low tuned basses, or my Takamine acoustic bass guitar. (I'll even play clarinet, ukelele, mandolin, acoustic 6 string or keys if you like!)
 
I send you an mp3 rough mix of the track for review, and make any modifications or changes as needed.
 
When you are completely happy with my bass take, I'll send you the full resolution final WAV files, both Amp and DI.
 
The fee is negotiated beforehand and I require 50% deposit before the recording and the balance upon completion.
 
The fee is discussed on a case by case basis, depending on the style of music, the amount of songs, and the overall budget. We'll come up with a price we're both happy with.
Need bass? Questions? Send me a message below.
Yours fretlessly
Tony Franklin